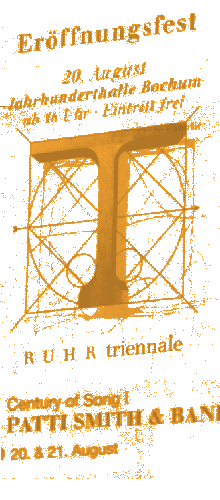 20 August 2005
Ruhr-Triennale: "Century of Song"
Jahrhunderthalle, Bochum, Germany

Beneath the Southern Cross
Redondo Beach
Mozart improvisation/
My Blakean Year
Free Money
We Three
25th Floor
Sea of Love
Ain't it Strange
Dancing Barefoot
Because the Night
Gloria

(encores):
Elegie1
Like a Rolling Stone
People Have the Power

Notes:
The sold out show was broadcast to a screen outside the venue for free.
1Patti Smith invited an unknown trumpet player who she had never played with on stage for this song. "A very brave man!"