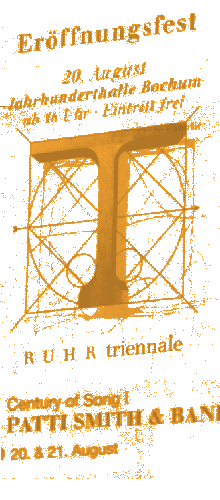 21 August 2005
Ruhr-Triennale: "Schule der Romantik"
Jahrhunderthalle, Bochum, Germany

The Lamb (poem by William Blake)
The Divine Image (poem by William Blake)
My Blakean Year
Inchworm
Grateful
True Music

Notes:
Patti Smith as teacher!
Between the readings and songs she talked about her romantic ideas and answered questions. Every pupil received a little drawing that she had made between the lessons.